NOIM Vision Statement
New Orleans International Muralists (NOIM), LLC will create murals that provide an artistic look into the past, present, or future within communities. These murals will be done indoors or outdoors, at private locations or businesses, painted on walls or on canvasses for mobility. These murals are educational tools for the community, as points of interest(s) for tourism, or simply for their aesthetic beauty. Our murals are being created to enable the community to gain a better understanding of why cultural preservation is important. The city of New Orleans has a rich culture, history, and traditions that we aspire to exemplify through our murals. NOIM, LLC strives to be THE resource for visual art installments. We hope to direct local and international artists to sanctioned locations and connections they could have in New Orleans for mural projects.
The Tchoupitoulas St. Floodwall Project
The Tchoupitoulas St. floodwall project would extend from the former Jackson Ave. Ferry location near Wal-Mart and Josephine St. up river to 9th St. NOIM's lead artist Jamar Pierre has created an artist rendering titled Resilience that represents the 300th year anniversary of the founding of this great city of New Orleans. While we're working on this mural and once it is completed, we will use this piece of art to teach elementary, middle, and high school students the importance of the Port of New Orleans, our very rich cultural histories, and why it's so important that the youth of New Orleans never forget their city's history. NOIM will illustrate and explain how valuable and important it is to remember and commemorate these cultural and historical gems and their uniqueness to individual communities as well as the entire city. Additionally, we aspire to extend this project every two-three years (depending on support received) into other communities' public spaces around the city of New Orleans. For example, under overpasses and bridges, in or near public schools, at recreational facilities, public libraries, and down in the overflow canals and other floodwall locations. Moreover, in an effort to further extend our historical murals and education reach, we intend to continue these tricentennial based education lessons in most of the areas surrounding New Orleans such as: New Orleans East, the Lower 9th ward, Gentilly, and Lakeview.
Thank you for your support,
New Orleans International Muralists
Contact Information
Email: Noimuralists@gmail.com
Phone: 504-782-2836 or 504-656-5540
Folllow us on Instagram & Twitter at @Noimuralists504
New Orleans International Muralists via Facebook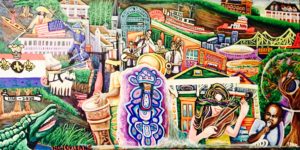 Resilience